Batman Consumes Martian Manhunter To Become… MINDHUNTER
The Martian Manhunter is in trouble in the preview for DC Comics' Justice League #56. A tie-in issue to DC's Dark Nights: Death Metal event as part of their larger "Doom Metal" arc, the book will see a ragtag Justice League on the run from Perpetua. Though things won't be looking particularly good for J'onn J'onzz, AKA the Martian Manhunter, as he'll be facing a Dark Batman desiring to consume the shape-shifting hero from Mars.
The "Doom Metal" arc of Justice League will begin in September from the mind of writer Joshua Williamson and feature an improvised Justice League as the result of the rogue Super Celestial Perpetua and her second in command the Batman Who Laughs. Its roster will include Nightwing, Starfire, Cyborg, Detective Chimp, Hawkgirl, and none other than Lex Luthor himself, who was betrayed by Perpetua during Year of the Villain. It should be interesting to see what Lex's stake will be: will he be trying to redeem himself by joining the League, or does he just want to use them to get his revenge?
Related: Lobo Is Secretly Partnering With (SPOILER) In Dark Nights: Death Metal
Justice League #56 will be the fourth part of the Death Metal tie-in story, and will no doubt feature plenty of twisted alternate versions of Batman, including one that will have a particular interest in Martian Manhunter. Hawkgirl and her fellow impromptu Leaguers will fight to save their alien ally. Here's the cover for Justice League #56 along with the solicitation: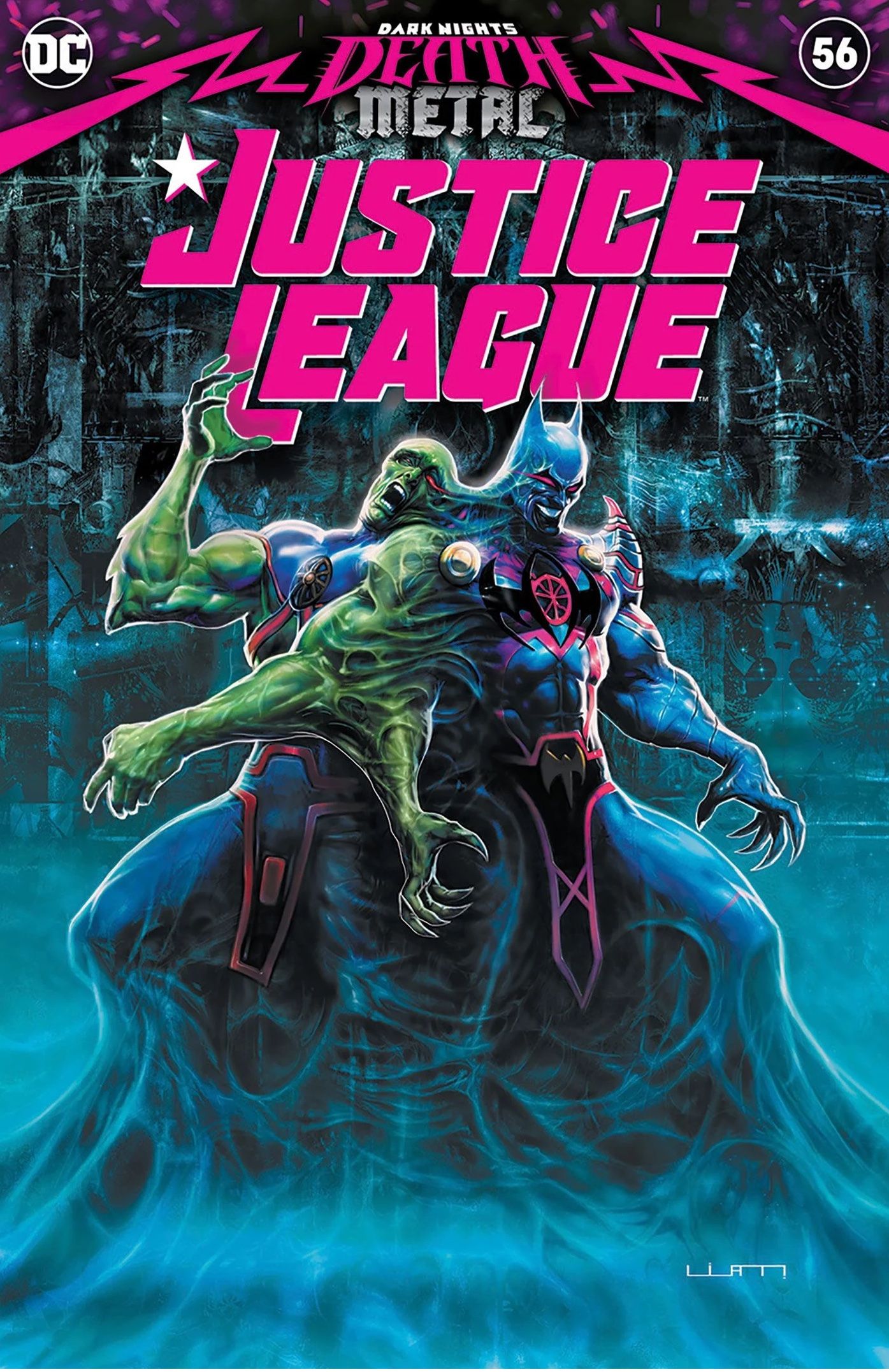 JUSTICE LEAGUE #56
Release Date: November 3rd, 2020
Written by: Joshua Williamson
Art by: Robson Rocha, Daniel Henriques
Cover Art by: Liam Sharp
Variant Cover by: Tony S. Daniel, Danny Miki
"Doom Metal" part four of five! In this Dark Nights: Death Metal tie-in issue, the Justice League has nowhere left to hide from the agents of Perpetua. The towering, nightmarish Omega Knight hunts them to the edges of Brimstone Bay and will stop at nothing until the team is obliterated! And all the while, above Perpetua's throne, Hawkgirl battles the Mindhunter for the soul of the man she loves: Martian Manhunter! 32 pages."
It looks as though Hawkgirl's motivations in saving J'onn will come from love, which has been a new and interesting dynamic for the two characters since the beginning of DC's Rebirth era. Apparently, the Dark Batman will be known as the Mindhunter, and if the cover art is any indication, he'll have powers at his disposal that he will try to use to consume and/or absorb J'onn into himself. Hopefully, fans will be treated to a backstory of the Mindhunter, and how this version of Batman came to be in this new Dark Multiverse the Batman who Laughs has created.
In any case, Justice League and "Doom Metal" look to have plenty to surprises in store with an all new League, a major threat in Perpetua, and all new servants of the Celestial that will no doubt pose a significant threat to the new team of heroes that formed with a desire to spark hope in a pretty bleak and dark multiverse.
Justice League #56 releases November 3rd.
Next: DC's DEATH METAL Massively Expands, Adds All-Star Creators
Subscribe to Newsedgepoint Google News